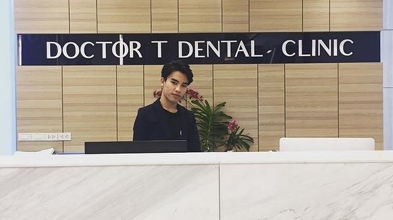 According to the American College of Prosthodontists, 178 million Americans are missing at least one tooth and more than 35 million Americans are missing all their teeth on one or both arches. What are your new year resolutions in 2018? Make a resolution to improve your oral health. Eliminating bad habits, starting new good habits and prevention are all key to maintaining good oral health and avoiding the risk of gum disease and other possible systemic condition.
The top cosmetic dentistry center in Thailand, Doctor T Dental Clinic, is highly recognized a leading professional in the field of Dentistry. The advanced dental clinic in Bangkok holds over 20 years of experience, as well as expertise in the areas of pediatric dentistry, preventative care, cleanings, checkups, extractions, fluoride treatments and orthodontics.
Why Choose Doctor T Dental Clinic in Thailand
Doctor T Dental Clinic in Thailand makes it easy for patients to get the dental care they need, including:
Personalized treatment and friendly service > Each patient will receive a comprehensive diagnosis and treatment plan designed by the dentist with long-term oral and overall health in mind. Available services include hygiene, treatment of gum disease, extractions, fillings, oral surgery, whitening, and crown and bridge work.
Affordable dental care > Our team is committed to keeping prices fair so that patients can get the care they need.
Advanced dental implants > Dental Implants are titanium posts that are inserted into your bone and act like the roots of your teeth. They allow us to eat, speak, smile and live with confidence. Additionally, dental implants help maintain your bone structure, allowing for a more youthful look throughout your life. They more closely represent your natural teeth and they are simply the best solution for missing teeth. Get your smile back. Get your confidence back with dental implants in Thailand.
Dental Tips by the ADA (American Dental Association)
The following tips will help keep teeth in tip-top shape for the holidays and beyond:
Put down the brittle – Hard foods like peanut brittle and sticky foods like dried fruit wreak havoc on our teeth. Opt for less hard and sticky options like chocolate which rinses off more easily.
Limit your carbs – Starchy foods like sweet potato casserole tend to get stuck between our teeth which could result in plaque buildup. Be sure to clean between your teeth daily to remove any unwanted food that is left behind.
Cheers – Decadent holiday drinks abound at holiday events, but super sugary cocktails like egg nog can dry out your mouth. If you choose to raise a glass, be sure to follow it with a glass of water to help rinse away sugar.
Pucker up – A squeeze of lemon may make a cup of tea more refreshing, but too much citrus can erode enamel. A better choice would be milk as it may benefit tooth health thanks to high amounts of calcium and other nutrients.
Reach for the scissors – Teeth are not made for opening presents and can be cracked if used as a stand-in for scissors. Rather than chewing through a hard-to-untie ribbon, grab something to help you cut it.
Here at Doctor T Dental Clinic, we believe that... " the highest quality of the end result" is the most important thing. We will do everything to deliver that "highest quality result" to our patients. We know that there are many uncertainties in this uncertain world, but you can be certain about our promise.
Do Your Homework... Do It Right The First Time
Dr.T DDS, MSD
American Board Certified Orthodontist
Staff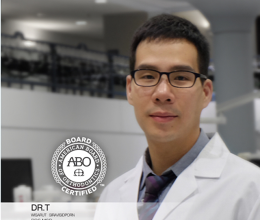 Dr. T
Dental Surgeon
---
Highest commitment to excellence.