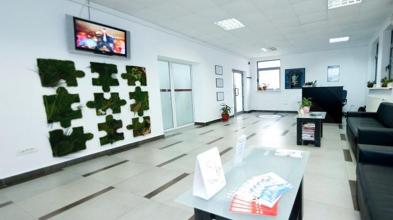 TDC TEAM DENTAL CLINIC — is a team comprised of specialists always ready to treat your dental issues! Our daily activities transpire in an ultra-modern clinic under the direct care of highly qualified and friendly dental care professionals. Our specialists are experts in a wide-range of dentistry services to cater to all of your dental care needs.
THE BIRTH OF A TEAM — everything started with a beautiful dream, a dream of building a dedicated team that brings together highly qualified dental care professionals. TDC Founder, Dr. Vasile Caia, brought together a highly trained team of specialists in different fields of dental medicine. Today, we are bring you a highly-trained room of experts who are fully committed professionals. Team Dental Clinic is managed by Doctor Vasile Caia, his wife Roxandra Caia, and general manager Gigi Honcas, who also coordinates the entire logistic activity.
HIGH QUALITY SERVICES — Dr. Vasile Caia is specialized in dental implants, oral surgery and dental aesthetics. Our modern clinic provides our dental patients with 5 medical consulting rooms, a sterilization room, digital radiology, 2 waiting halls, a lecture room and a few management offices. The state-of-the-art equipment and advanced technology we employ, allow us to provide high quality services, as well as the management of dental tourism.
WHY CHOOSE TDC ROMANIA?
We offer a wide range of dental services with highly qualified specialists available for every branch of dental medicine.
You will benefit from latest dental techniques, cutting edge technology and high quality services.
You will be able to communicate freely with our professionals.
We are patient and we make sure we perfectly understand your needs.
Our prices are fully accessible.
Team Dental Clinic in Timisoara committed to bringing a smile back to our patient's faces. We are here to help you regain your spontaneous and confident smile. Come see us today!
Staff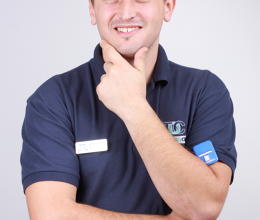 Dr. Vasile Caia
Dental implants, oral surgery and dental aesthetics
---
Dr. Caia aimed to build up a team designed to gather dentists specialized in different branches of dental medicine. This is the reason why, together with his wife, Roxandra, he implemented this concept to the clinic they own. They both spend most of their spare time together making their dreams true both in terms of personal life as well as in their professional life. In his spare time Dr. Caia loves the getaways in nature, particularly the long walks in forests and mountain hiking, often combing these activities with biking and skiing. At the same time his most frequent hobby is the ping pong. In 2007, Dr. Caia graduated from the Faculty of Dental Medicine ("Victor Babes" University of Medicine and Pharmacy of Timisoara) and afterwards he began his advanced studies in oral implantology and dental aesthetics.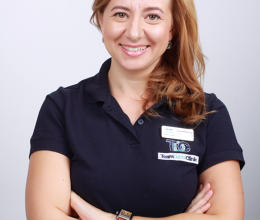 Dr. Andreea Lazea
Orthodontics
---
Dr. Lazea, graduate of "Victor Babeș" Faculty of Medicine and Pharmacy of Timisoara, is a dental care professional specialised in orthodontics. Proving courage and enthusiasm, every day she turns any medical problem into a beautiful smile and healthy teeth. Her passion for children is now reflected by her profession which helps her stepping into the fascinating world of the Tooth Fairy. For her, the smile of every content patient is a reliable confirmation of professionalism. After a full day at work, she loves relaxing besides her beloved dog.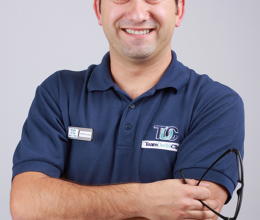 Dr. Florin Bratiloveanu
Endodontics
---
Dr. Bratiloveanu is a general dental practitioner specialized in endodontics and graduate of the "Victor Babeș" Faculty of Dental Medicine. As a member of the Team Dental team, Dr. Bratiloveanu kept his commitment to his passion for dental medicine proving to be a highly qualified specialist in this field. Before all, he is a devoted husband and a loving father, always putting his family first. Thanks to his serene smile and high sense of humour, the persons around him are never sad! Follower of the saying "Mens sana in corpore sano", he lives an active life. He prefers team sports, such as football. He relaxes listening to jazz music. What defines him is the passion to travel and to know as many cultures and customs as possible.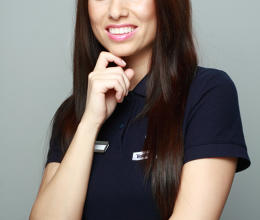 Dr. Felicia Ghinescu
Dentist
---
Dr. Ghinescu is a graduate of "Vasile Goldis" Faculty of Dental Medicine of Arad, class 2013. Her dedication, commitment and passion for this profession were clearly reflected by her academic achievements. In the past she attended the specialization "Dental Technique" within the "Victor Babes" University of Medicine and Pharmacy of Timisoara, class 2009. After 4 years of practising this profession, she wanted to reach the next level, to see the enthusiasm and content of the patients receiving dental works. Dr. Ghinescu is an ambitious person fully dedicated to her work. She is dynamic, responsible, perseverant, sociable, optimistic up to the last moment, endowed with a native practical sense, always willing to learn more. . She is fond of alpine skiing, because she likes adrenaline and the temptation of defying gravitational force. Every year she is eager to go skiing and consequently she spends most of the time on the ski runs. She chose this profession thanks to a dentist lady who inspired her passion for this job. Soon she committed to this profession which harmoniously combines science with art and technique.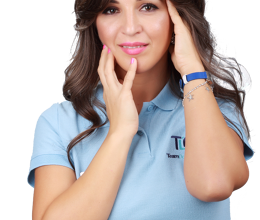 Cristina Geica-Muntean
Registered nurse
---
Graduate of "Ana Aslan" Nursing School, specialized as Nurse responsible for general care, Cristina acts as of Chief Nurse in Team Dental Clinic, as she proved her commitment as well as organizational skills and abilities to effectively work in a team. She has been with us for over 4 years. She also graduated from the "Spiru Haret" Postgraduate School, specialization: Customs Officer as well as the "Dimitrie Cantemir" Faculty of Tourism and Commercial Management. She spends her free time with her family and she loves travelling to exotic countries since she is fond of the sun and the sea. She considers that a good book can perfectly complement such wonderful experiences. She also loves romantic music. She is a charismatic, responsible and sociable person you can always rely on simply because you just know she will be there ready to help with everything you need! Always elegant and preoccupied by aesthetics, she finds relaxation by creating art.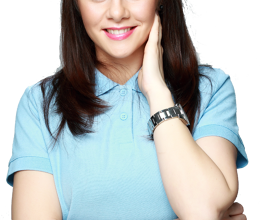 Claudia Boldea
Registered nurse
---
Claudia graduated from "Ana Aslan" Nursing School, as a nurse responsible for general care. She loves travelling to discover and understand as many things as possible about the world cultures. As a very communicative and energetic presence, always opened to collaborate with the dentists as well as with the rest of the team, Claudia is willing to learn everything that pertains to the dentistry area, proving to be of a real support for the entire team.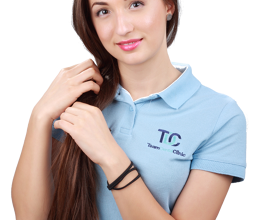 Cristina Balan
Practitioner
---
As a 5th year student at the "Victor Babes" Faculty of Dental Medicine, Cristina is a sensitive person strongly committed to her future profession. She has chosen to join the Team Dental Clinic because she found here the right persons ready to get involved in and support her professional development. She is constantly learning the ropes from the dentists with whom she works and she is confidents that one day she will become an exceptional dentist herself. Starting with the age of 6 she played tennis because she wanted to become a famous sportswoman. She is fond of films and music, and in terms of sports, she loves tennis and handball (the sports she played). By her enthusiasm and devotion, she managed to win over the trust and admiration of the entire team.
Alex Caia
Practitioner
---
He originates from Maramureș and he is student at the "Victor Babes" Faculty of Dental Medicine of Timisoara. He has chosen Team Dental Clinic because he thinks that this business name is a number of brave and highly qualified professionals. He is a fair and hardworking person who loves smiling all the time. Drawing and fish-keeping are definitely among his hobbies. A line authored by VeritaSaga: "Never let the time pass by in vain, as little can you do to stop it's passing by" One of the songs he likes very much is "VeritaSaga – Always the same".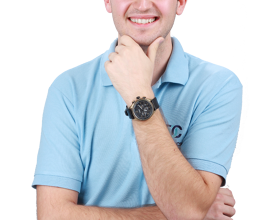 Marius Dalea
Practitioner
---
He graduated a few months ago the Faculty of Dental Medicine, specialization: Dental Medicine. So he will be our next fresh doctor. For the moment he is still an excelent parctitioner. Before his graduation from the "C.D. Loga" National College of Timisoara, Marius has participated in numerous contests, national contests and sport competitions. He holds a proficiency certificate in Computer Science, Software and Programming. He prefers to spend his spare time travelling and meeting new cultures, customs and different people.