Established in 2008, Kyrenia Dental Clinic in Cyprus has been providing patients with some of the best dental care on the island. With more than a decade of experience practicing cosmetic and reconstructive dentistry, Dt. Sevgili has developed a unique approach to patient care.
Kyrenia Dental Clinic operates by the philosophy that the quality of dental care is directly related to the most up-to-date medical innovations and technology. For this reason, Dt. Sevgili is committed to offering state-of-the-art dentistry to deliver optimum results for patients.
Dt. Sevgili's specialties include the latest techniques in dental implants and cosmetic dentistry. Kyrenia Dental Clinic offers a full range of treatments and procedures from dental veneers to oral surgery, and everything in between.
Kyrenia Dental Clinic is a sparkling clean and modern facility. The clinic has a spa-like atmosphere, which allows patients to unwind, for the most comfortable dental care experience ever.
The high quality dental work and tech savvy facilities at Kyrenia Dental Clinic are just two reasons medical tourists travel for dental care in Cyprus each year.
The island, located just south of Turkey, can only be described in one word: paradise. Along with being a top destination for dental tourists, Cyprus is a popular holiday spot for visitors from all corners of the globe.
Visit Kyrenia Dental Clinic in Cyprus for a dental exam or a smile makeover, while vacationing in one of the most exclusive European destinations in the Mediterranean.
Contact Kyrenia Dental Clinic, get a free quote
Reviews
Good Day Dr Mustafa-just wanted to thank you for the Excellent dental work you provided me during our stay in TRNC this year. All nine of the new crowns are fitted perfectly with no irritation experienced. I must point out that my teeth have never looked better nor felt better than they have since you completed all the procedures. Also, I no longer experience the issue of food becoming stuck in the area of the last crown. Both my wife and I are so thankful that we "discovered you" as our Dentist. She too wanted to thank you for the procedures you performed for her and commended you for your expertise and attentive patient care. We look forward to working with you in the years to come for All our Dental services. We have safely returned to Canada and shall enjoy our summer here and look forward to returning to Bellapais, TRNC this coming November. Thank you and best regards. Paul and Lou Thompson.=)

This was my first visit to a N.Cyprus dentist, I called the dentist who got me an appointment very quickly when my cap/filling fell out. My treatment lasted 35 minutes. The work done was very through, even the assistant put lotion on my lips as they were dry. The treatment was very intense but not painful. The numbing injection was very gentle and I never felt any pain through out the procedure. The only thing I would have changed was to ask for a little break so I could close my jaw for a few moments, I have a clicky jaw. I will request this next time. I only had a little ache in my mouth afterwards but I'm very happy with the filling lasting longer than my English filling. WELL DONE

It was amazing just to treat a very bad situation of roots problem in just two hours in high technical way

I feel no pain, and it's been good so far.

Top notch equipment and a friendly professional service. Dentistry far better than in the UK.

I found the Dentist very professional and friendly. He explains everything he is doing during the treatment which puts you at ease. The surgery is immaculate and the staff are also very friendly. I would highly recommend it.

First class treatment with first class service in a first class surgery. With state of the art equipment. Better than any dentist I've been to in the UK. I had and On Lay which is more than a filling but not quite a crown. I would definitely recommend this dentist to anyone. I'm also booking more treatment for next year.

I found the service I received, first class. The highest professional standards where given, and I was made to feel very welcome. The procedure it's self was flawless with almost no discomfort. I recommend unreservedly Wayne Daley

Very modern, state of the art equipment, and professional staff. The dentist spoke excellent English and was very thorough. As we were on holiday at the time of our visit, the dentist gave us a disc to take away, with all the details of his examination in case we needed it for our regular dentist.

Absolutely excellent. The outside of the building doesn't reflect the high standards of the practice inside. I'm really particular about my teeth and now I wait for my trip to Cyprus for check ups and work.

I felt compelled to write and express my appreciation in regards to the service I have received from 'visit and care'. When initial contact was made you were very quick to respond and kept me updated all along the way. As Lola has a huge fear of dentists we had already tried many in Northern Cyprus but did not find a suitable one. Dr. Mustafa Haldun Sevgili was amazing. He took his time explaining everything to Lola and won her over completely. In fact Lola now cannot wait to go on Friday to have teeth extracted! Once again THANK YOU all for helping us find a great dentist. Kind Regards

Arrived on holiday and on day 1 my filling dropped out.googled the clinic and also asked a local what the reputation was of the clinic.booking online and getting a quote and directions to the clinic were excellent.i must admit I was nervous before going in,but no need.the dentist put me at my ease and did a great job.would recommend to others.

Best dentist I have used in my 60 years. Surgery immaculate dentist highly skilled staff very friendly

First class treatement. Cannot recommend too highly
Staff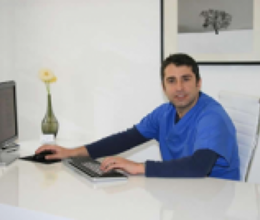 Dt. Sevgili
---
Dt. Sevgili 's vast experience and high-qualified expertise gives patients a comfortable environment to take care of all their dental needs. Dt. Sevgili's specialties include the latest techniques in dental implants and cosmetic dentistry.