Nothing will help you more to make the first impression than a firm handshake and a bright smile! If you want to offer a beautiful smile and make the best first impression on the people you meet, it is time for you to visit the leading dental center in Croatia, B.Dent Dental Clinic. B.Dent's experienced aesthetic dentistry experts have set high aesthetics standards for our clinic.
Our specialised dental clinic is committed to providing you with the information and services to meet the highest standards of dental profession. Our mission is to go beyond the preservation and maintenance of the general dentistry; as our dentists will design for you an individual treatment plan guaranteeing an impeccable clinically functional and highly aesthetic dentition.
Top Dental Clinic in Zagreb
As the top dental clinic in Zagreb, we offer a professional staff, top-level service, a relaxing and warm atmosphere — and state-of-the art dental technology. By paying full attention and bringing to perfection even the smallest details, as well as applying our professional and individual approach, B.Dent will help you achieve your dream smile.
The art of a beautiful smile does not only involve the ability to make teeth white and shiny or to fill a hole or straighten a tooth. It is also a result of a dentist's aesthetic sensibility. And this, along with our experience at B.Dent, is what has helped us become leading aesthetic experts in the field of dentistry.
Located at the heart of the western district — the city of Zagreb, in Vrbani, our expert team is ready to help you make your dreams true with a beautiful smile. Feel free to contact us if you have any questions. Our experienced staff will be happy to help you.
COSMETIC DENTISTRY
Cosmetic dentistry is on a rise in today's world. A bright smile opens the doors both in one's private and one's business life. Our dental centre gives great care to smile aesthetics. In terms of the quality and the innovativeness of the materials we use, we are one of the market leaders in the area. With your cooperation, we will use our knowledge and skills to make your smile impeccable!
PROSTHODONTICS
Prosthodontics or dental prosthetics is the area of dentistry that deals with tooth crowning and the fabrication of bridges and dentures. It is an important part of dentistry focussing on the recovery of oral and facial aesthetics. By meticulous planning and in close cooperation with the patient, we choose the optimum prosthetic treatment to return the lost brightness on the patient's face.
DENTAL IMPLANTS
Dental implants provide the dentist with an opportunity to give the patient a healthy and beautiful smile using innovative technology. Dental implants are used to replace one or more missing teeth and they represent an alternative to the conventional bridges and dentures. Dental implants have both the function and the appearance of a natural tooth. By maintaining the bone structure, further loss of teeth is prevented as well as the sunken appearance of the face. Implants can also be used to ensure the firmness of the dentures and, in that way, eliminate the problems associated with conventional dentures, but still allowing for the removal of the denture for the purpose of maintaining oral hygiene. Restoration with dental implants consists of placing a titanium implant, on top of which a crown, bridge or denture is added. The implant is surgically built into the bone, replacing the natural root of the tooth. After several months, the implant forms an intimate bond to the bone (osseointegration), allowing the patient to bite and chew as he or she would with a healthy natural tooth.
Implantology, Oral Surgery With Periodonthology, Children Dentistry, Dental Prosthetics, Orthodontology, Restorative Dentistry And Endodontics, Orthopantomograph, Dermal Fillers, and Admittance of Patients through the Croatian Health Insurance Fund. Come visit us today to protect your oral health.
We have three modern dental offices waiting for you, preventing lengthy waiting periods before your appointment! It is our goal to gain your trust and boost your confidence with your new, artfully renewed healthy smile!
Reviews
I had two root canals done by Dr. Jelena Buršić Kadić. She did everything possible to make the experience as pleasant as it could be. Thanks so much for the excellent treatment. Caring and professional - a perfect combination when you need dental work. Clinic staff was great. They even provided me with a ride to the clinic. Thank you Tony. An overall great experience! Highly recommended.

Had a teeth whitening treatment recently and very pleased with the results. Prices are reasonable and my smile could not look better. The whole treatment lasted an hour, felt comfortable throughout and received a consultation on how to look after my teeth post the treatment. Highly recommend. Friendly, professional and experienced staff. Very convenient location and well connected to the rest of the city. Warm welcome to the clinic eases on nerves and helps to relax prior to the treatment

I was on vacation in Croatia and needed a dentist urgently and was recommended to go to Dr Burazin by a local contact. The staff there were super friendly and professional, very attentive in general. I had a cracked molar fixed and then decided to have my teeth whitened. I cannot recommend them highly enough as well. Modern equipment, easily accessible location, great staff and no waiting. With the currency conversion rates being what they are right now this a very cost effective location for your dental work. I'll be back.

I don't have a UK dentist any more, every time I go on holiday I get a check up and clean with Andrea. I love attention to detail and get that in spades. My teeth are fantastic after every visit. Fully recommend. I started to go to this clinic because my wife is from Zagreb, but now unless I have an emergency (luckily none to date) I would never again go back to a UK dentist. Even considering getting braces, which means more regular trips, but the saving would be worth the flights and some, by a considerable amount

Soon after I retired in 2014 my teeth began to loosen and began to fall out. My dentist referred me to a local implant specialist in my community in Sacramento, CA. After the initial exam it became apparent that I couldn't afford the $55,000 minimum estimate they quoted me. Further research took me to WhatClinic where I came upon B Dent in Zagreb, Croatia. My remaining teeth were extracted, bone built up and implants completed over two days. I am still amazed of the skill and care of the team at B Dent. They picked us up at the airport and met soon after to introduce us to the team and and review the treatment plan. I tell my my family and friends that this was the best decision/investment I've made for myself and credit B Dent for making it a total great experience. We had visited Zagreb the year before so we decided a clinic in Croatia. Dr. Burazin sent an itemized list of cost for treatments and it was affordable. Her team was very informative via email and phone during the planning process. The surgeon, her staff were very friendly and professional. They explained all phases of treatment prior to each procedure. I received 10 implants, 6 lower, 4 upper. Dr. Burazin explained all costs, but more importantly eased all my concerns and fears I had. On top of that her staff helped suggest where to shop, rent a car and ideas for travel after treatments. We really valued their total care. While in Croatia, we visited Split and Plitvice National Park for a week., visited museums and attended the National Ballet. The most amazing thing is that our airfare and vacation cost for the the trip was at least one half of what I I was quoted by my local clinic.

First meet with the friendly and experienced staff for my Wisdom teeth removal. Afterwards, they have succesfully applied teeth whitening followed by 4 implants. I believe they are quite good with the fillings as well, my friend who suggested me B-Dent was being treated for fillings. Very well educated dentists, real friendly and professional approach. During my business related stay in Zagreb for almost 2 years, B Dent was a great choice for my dental works. They have been suggested by a local friend to me. Very well educated dentists, real friendly and professional approach, and the clinic has a very clean, tidy and hygenic environment. Can't thank them enough for giving me a great Smile!!!

OMG... what a transformation.... I have a beautiful unbelievable set of teeth now. The team at B.Dent is very professional, very experienced and they make you very comfortable. I can tell you hand on my heart, it was an amazing experience and they really put their heart and soul into their work. If I can give them more than 5 stars, I would easily give it to the team at B.Dent. I highly recommend to anyone... I wish them all the very best for the future!!!
Staff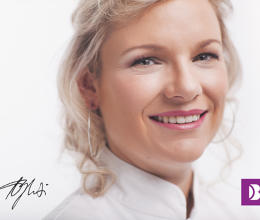 Dr. Andrea Burazin Kurti
Aesthetic & Cosmetic dentistry and General Dentistry
---
Believe us, nothing will help you more to make the first impression than a firm handshake and a bright smile. If you want to offer a beautiful smile and make the best first impression on the people you meet, it is time for you to visit B.dent's experienced aesthetic dentistry experts. Thanks to you we received "Patient Service Award in 2017". Come for your smile and relax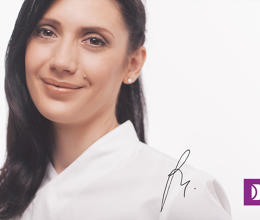 Jelena Buršić Kadić
Aesthetic & Cosmetic dentistry and General Dentistry, Accreditations: Nobel Biocare Fellowship Program (International)
---
You surely want only the best for your teeth, and we do not settle for anything less than that by taking the smallest details to perfection. With our expertise, using an individual approach, we will help you in creating your dream smile. Because it all comes down to your happiness – and a beautiful smile is the first step in that direction. Come and find out why we are listed Top dental clinic in Croatian. For Us you are not a number you are patient with all inclusive